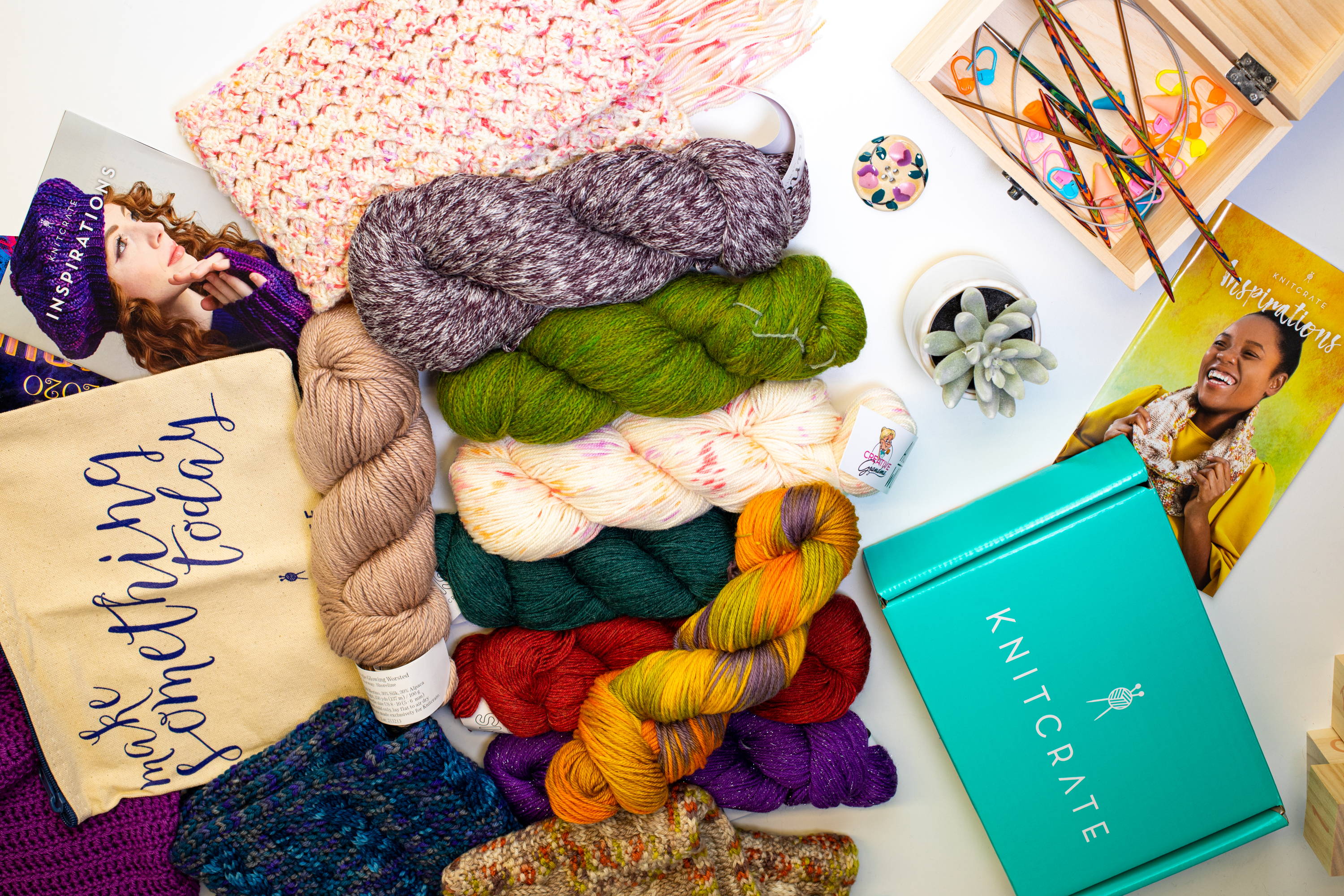 We are warming up the summer even more with a hot giveaway!
Head over to our Instagram for your chance to win the following:
1 Free Year of KnitCrate Membership Crates
7 skeins of additional yarn
1 Kitchener Stitch Project Bag
A $500 value for one lucky winner!!
Visit our Instagram post to enter (all entries must be on Instagram)! All entries must be in by July 7, 2020 and the drawing will be held the next day. Read more below in our Official Rules
NO PURCHASE, KNITCRATE MEMBERSHIP, OR REQUESTS FOR INFORMATION REQUIRED TO ENTER OR WIN, AND WILL NOT INCREASE YOUR CHANCES OF WINNING. YOU HAVE NOT WON YET. See "Entering Without Membership or Purchase" for details on how to enter without a Membership or purchase.
These Official Rules apply to the KNITCRATE Tag to Win Giveaway to be held from June 30, 2020, to July 7, 2020, with the official drawing to take place on or about July 8, 2020 (the "Sweepstakes").
Prize: KnitCrate will award one prize to one winner. The prize will consist of an assortment of yarn, 1 year of KnitCrate Membership subscription and a project bag. The estimated retail value of the prize is $500. Odds of winning depend on the number of eligible entries received by KnitCrate during the Entry Period (defined below). Payment of any and all taxes associated with each prize is the responsibility of the winner of the prize. Yarn pictured in post may not be the yarn received by winner as part of this Sweepstakes.
Eligibility: Must be 18 years or older, and a resident of one of the United States or the District of Columbia to enter or win a prize. Employees of KnitCrate, its affiliates, or their respective advertising, public relations, accounting or legal firms, and immediate family members or individuals living in the same household of such employees, are not eligible to enter the Sweepstakes or win a prize. For purposes of these eligibility rules, "immediate family members" mean spouse, children, parents, parents of spouse, siblings, and spouse's siblings.
Additional Eligibility Requirements: Prior to receiving any prize, the winner must provide KnitCrate with any information or certifications needed by KnitCrate, in its sole judgment, for tax reporting purposes. If you fail to satisfy these conditions within three (3) days after we send you notice that your entry has been selected, you will not be eligible for the prize and we will select an alternate winner as described in "Selection of Winners" below. Sweepstakes subject to all applicable federal, state and local laws. All decisions on eligibility will be made by KnitCrate and its decisions are final and binding.
How to Enter: You may enter tagging a person on KnitCrate's Instagram post announcing the Sweepstakes. All entries must be posted between the day the contest is posted until July 7, 2020 11:59pm EST. There is no limit to the number of entries per person; provided, however, that each post must be unique and automated generation of posts is not permitted. Profile must be public.
Entering Without Membership or Purchase: Non-members are welcome to enter and no purchase from KnitCrate of any kind is required to do so.
Selection of Winners: After the end of the Entry Period, a KnitCrate representative will select the winner by a random selection process. If KnitCrate determines that the person whose entry is selected was not eligible to enter the drawing, or if the person drawn refuses to accept the prize or fails to complete the eligibility requirements described in "Additional Eligibility Requirements" above, or if the person whose post is selected cannot be contacted or identified, KnitCrate will conduct a subsequent random drawing from all remaining eligible entries to select an alternate winner. The winner will be contacted via the method of entry (for example, direct message to their Instagram account).
Additional Agreements/Waivers: By entering the Sweepstakes, each entrant agrees (a) to be bound by these Official Sweepstakes Rules and to interpretation of these rules by KnitCrate and (b) that KnitCrate and its agents, affiliates, representatives and employees will have no liability whatsoever for any injuries, losses or damages of any kind resulting from acceptance or use of the prize(s). Except as prohibited by law, each winner also consents, by entering the Sweepstakes and without further compensation, to KnitCrate's use and publication of the winner's name, photograph, likeness, biographical information, and details of winning for KnitCrate's advertising, promotional, or regulatory purposes. Sweepstakes void where prohibited by law. In the event that the operation, security, or administration of the Sweepstakes is impaired in any way for any reason, including, but not limited to fraud, virus, bug, worm, unauthorized human intervention or other technical problem, or in the event the Sweepstakes is unable to run as planned for any other reason, as determined by KnitCrate in its sole and absolute discretion, KnitCrate may, in its sole discretion, either (a) suspend the Sweepstakes to address the impairment and then resume the Sweepstakes in a manner that best conforms to the spirit of these Official Rules or (b) terminate the Sweepstakes and, in the event of termination, award the prize at random from among the eligible, non-suspect Entries received in such Sweepstakes up to the time of the impairment. KnitCrate reserves the right in its sole discretion to disqualify any entrant found to be tampering with the entry process or the operation of the Sweepstakes or to be acting in violation of the Official Rules or in an unsportsmanlike or disruptive manner. KnitCrate reserves the right to change, modify, or extend the Entry Period if it should be deemed necessary. Failure by KnitCrate to enforce any provision of the Official Rules shall not constitute a waiver of that provision.
Sweepstakes Sponsor and Winner Information: This Sweepstakes is sponsored by: KnitCrate, located at 329 NE 59th Terrace, Miami Florida 33137.
Continue reading